<![if !vml]>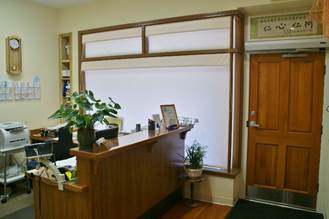 <![endif]>    <![if !vml]>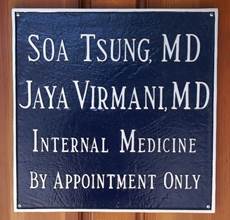 <![endif]>     <![if !vml]>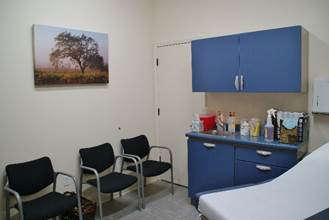 <![endif]>
About our office... 
---
Appointments
All visits are by appointment only. Please call us to schedule both routine and urgent appointments. There is time reserved each day for sick patients that need same day appointments.
During the pandemic, in order to keep everyone safe, appointments always start with televisits (either phone or video per patient choice).  During the televisit, you and the doctor will determine whether an in-person visit is needed or if the televisit was sufficient. 
---
Office Hours
We are open Monday through Thursday from to 12:30 PM and 1:30PM to 4:30 PM.  We are open Fridays from 9 AM to 12:30 PM. 
---
After Hours
Our office voicemail has instructions about how to contact us for after hours emergencies.  Dr. Tsung or Dr. Virmani (or occasionally, another covering physician) will be on call. If it is a life-threatening emergency dial 911 or go immediately to the Emergency Room at the closest hospital.
---
General Payment Policy
Since we would like to focus on the care of our patients and not on the business of medicine, we do not have contracts with any insurance companies.
We have opted out of the Medicare program so cannot bill the Medicare program.  We are considered "out-of-network providers" for all our PPO patients.  Our patients pay at the time of service. 
There is no monthly "concierge practice fee."  We charge an hourly fee for the time that the doctor personally spends with you or on your behalf.  This includes appointments (televisits or in-person appointments), phone calls, reviewing records, coordinating with your specialists, researching specific topics for you, speaking with your insurance to get special authorization for tests/medications, filling out forms, and writing letters on your behalf.  We wait to group charges so there may be a gap in time before the charge appears on your credit card.  The hourly rate changes modestly each year. 
Since the pandemic, we have converted to a credit card only system to keep payments contactless.  Our patients have credit cards on file stored securely by our credit card processing company.  Your credit card will be charged for time the doctor spends on your care.  There are no charges when no work needs to be done. 
Medicare patients cannot submit claims to Medicare but may try to send a claim to secondary insurances that are not Medigap  (Medicare secondary) plans. Patients with PPO insurance may request a completed insurance form which may be submitted to the insurance for possible reimbursement.  Please be sure to check your health insurance policy carefully regarding "out of network" benefits if you have questions. 
---
Missed Appointments
The office may elect to charge the full fee of the visit if you cancel a physical or new patient appointment without 1 week notice or cancel a follow up appointment without 48 hours notice unless there is an unavoidable emergency.  Please call us early to reschedule your visits in order to avoid a charge for your missed visit.
---
Returned Checks
The fee for a returned check is $50.00 in addition to the original amount of the check.
---
Hospitalization
All hospitals have hospitalists (hospital only physicians) who care for patients that are admitted to the hospital.  The hospitalists will assume primary responsibility for your treatment in the hospital.  You may request that your regular doctor (Dr. Virmani or Dr. Tsung) consult about your hospitalization if you or your family so desire.  We can view all hospital records online at Stanford and limited records at a number of the other nearby hospitals.
---
Prescription Refills
Please contact your pharmacy request a refill from our office. Please allow 72 hours for us to process the refill and plan ahead accordingly. If you are unable to refill directly with the pharmacy, call us with the name of the medication, the strength, the dosage, and your pharmacy's name and phone number.
If your medication requires a "prior authorization," this means that your insurance will not pay for it unless we try get special approval from your insurance.  This means that we have to fill out forms, submit to your insurance, and wait to see if it is approved.  This process can take 1 to 2 weeks.  Often, the insurance will still deny the medication even after this process since insurance companies want to save money for the company.  If you want brand name medication just out of preference, insurances usually deny it.
Pharmacies and insurances make it sound like the prior authorization process is just approval from your doctor but this is not the case.  Your prescription is valid as it stands.  The issue is whether your insurance will pay for your medication.  Many of our patients decide to pay for the prescription if the prescription is urgent and cannot wait 1-2 weeks for possible approval. 
www.goodrx.com is a medication pricing website that will tell you the price of the medication (generic and brand) at nearby pharmacies and also has goodrx discount coupons.  A particular medication may be less expensive at one pharmacy versus another.  If you are looking for a brand name medication, you can also look for the official manufacturer website for coupons and other savings programs.  Some companies also have websites that help you buy authorized generics as well. 
---
Records
If possible, please gather any pertinent tests and records of importance from your previous physician's office prior to your first appointment with us.  In the forms section of this web page, there is a consent form that you may send to your previous clinic or physician if needed.  If your previous records are at Stanford or Palo Alto Medical Foundation, we can usually access those records online.  After your first appointment, the doctor will help decide if you need to forward any other records to our office.
If you need a full copy of our records to be sent to another physician for transfer of care, please fill out our medical records release form.  There is a fee (depending on the number of pages that you are requesting) that will be collected prior to scanning and mailing the records CD.   Your chart will be scanned onto a CD.  Please allow at least 14 days.  
---
How to send us information
Mailing/Office Address:
Tsung & Virmani Medical Group Inc.
1900 El Camino Real, Suite #119
Menlo Park, CA 94027
Office Fax Number: 650-327-3180
If you do not have access to a fax machine, you use www.faxzero.com
<![if !supportLineBreakNewLine]>
<![endif]>
We do not use email for patient information.  Email is not a secure, HIPAA compliant medium.  So please use one of the options above or we would be happy to help you over the phone.



<![if !supportLineBreakNewLine]>
<![endif]>